The NCAA tournament offers a glimpse of some of the top NBA prospects and though we shouldn't place too much emphasis on each player's performances—it's only a one- or two-game sample—the samples shouldn't be discounted either. These games are data points, and given that they're as close to NBA-level competition as you're going to get at the NCAA level, they should carry a little extra weight.1
With that in mind—and with the Sixers holding all of the draft picks—let's take a look at how some of the top prospects fared in the first weekend of the tournament.
Top-5 Pick Prospects:
Jabari Parker, SF/PF, Duke
Season averages: 19.1 PPG, 8.7 RPG, 1.2 APG, 1.1 SPG, 1.2 BPG, 2.3 TO, 47.3 FG%
NCAA Tournament: 14.0 PPG, 7.0 RPG, 0.0 APG, 1.0 SPG, 0.0 BPG, 4.0 TO, 28.6 FG% (one game)
Did Parker's clunker against Mercer game expose legitimate flaws in his skill set that have been on display for most of the season? Yes. Should that take him outside of the top five on draft night? Probably not.
Most draft experts consider Parker to be the most NBA-ready prospect of the top-tier guys. While Andrew Wiggins and Joel Embiid may have higher ceilings, Parker seems to be the most likely to contribute right away, and could be the preseason Rookie of the Year favorite.
But there are red flags, and they were on full display in the Mercer loss. His 4-of-14 performance from the field can be chalked up to a bad shooting night, though his four turnovers and his non-existent defense were both weaknesses that plagued the freshman all season (he had 81 turnovers to 41 assists on the year).
Check out Parker (No. 1) leaving his man wide-open for a 3-pointer in this GIF by CBSSports.com's Matt Moore: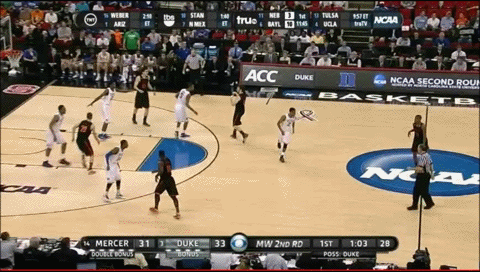 The first-round performance all but ended Parker's shot at becoming the No. 1 overall pick.  Still, whichever team lands the Duke freshman could get one of the NBA's best scorers; pairing him with a rock-solid defender could make for a dangerous frontcourt. (Here's looking at you, Nerlens.)
Stock: Slightly down, but steady
Andrew Wiggins, SG/SF, Kansas
Season averages: 17.1 PPG, 5.9 RPG, 1.6 APG, 1.2 SPG, 1.0 BPG, 2.3 TO, 44.8 FG%
NCAA Tournament: 11.5 PPG, 4.0 RPG, 0.5 APG, 0.5 SPG, 2.0 BPG, 3.0 TO, 36.8 FG% (two games)
Andrew Wiggins, the presumptive favorite for the No. 1 overall pick—and the player the Sixers reportedly2 have at the top of their board, per ESPN.com's Chad Ford—finished his college career with a dud against Stanford in the round of 32.
The 19-year-old scored four points on 1-of-6 shooting and recorded four rebounds, two blocks, one steal and one assist in 34 minutes. For those worried about Wiggins' assertiveness, the Stanford loss did absolutely nothing to assuage those concerns.
Offensively, Wiggins shares many of the same problems as Parker. He's liable to disappear from game-to-game, he is turnover prone (80 TOs to 54 assists), and he may struggle finishing through contact early in his NBA career due to his wiry frame. He has plenty of room to improve, but his not-that-dominant freshman season suggests his ceiling is more Paul George than LeBron James.
Defensively, however, Wiggins was excellent. Per GroupStats, Kansas opponents averaged nine fewer points per 100 possessions with Wiggins on the court, which was the best differential among any starting Jayhawk (including Joel Embiid).
He's an athletic freak with a seven-foot wingspan, which he'll use to lock down opponents on the next level. Watch him in action in this GIF from CBSSports.com's Matt Moore:
Despite the clunker against Stanford, he'll stay near, or at the top of every team's draft boards. His tourney performance simply confirmed that Wiggins is who we thought he was: a wildly talented prospect still feeling his way around.
Stock: Steady
Julius Randle, PF, Kentucky
Season averages: 15.1 PPG, 10.6 RPG, 1.4 APG, 0.5 SPG, 0.8 BPG, 2.6 TO, 50.3 FG%
NCAA Tournament: 16.0 PPG, 12.5 RPG, 3.0 APG, 0.5 SPG, 1.0 BPG, 1.5 TO, 52.4 FG% (two games)
Though Jabari Parker and Andrew Wiggins and didn't do themselves any favors this past weekend, the same can't be said for Kentucky power forward Julius Randle.
Julius Randle: 1st with at least 10 points, 10 rebounds, 5 assists in a tournament win over a 1 seed since Dwyane Wade ('03 vs Kentucky)

— ESPN Stats & Info (@ESPNStatsInfo) March 23, 2014
Julius Randle: NCAA-best 22nd double-double of the season. Randle had more offensive rebounds (5) and 2nd-chance points (6) than Wichita St

— ESPN Stats & Info (@ESPNStatsInfo) March 23, 2014
Randle straight up bullied Kansas State and top-seeded Wichita State, repeatedly using his 6-foot-9, 250-pound frame to dominate the paint. The freshman scored a game-high 19 points in the round-of-64 matchup against Kansas State, including 14 points in the paint on 7-of-10 shooting, per ESPN Stats & Info.
Against Wichita State, he not only recorded more offensive rebounds (five) and second-chance points (six) than the entire Shockers team; he also finished with a career-high six assists. The latter was the biggest surprise, as he hadn't recorded more than four dimes in a game since mid-January (against Tennessee).
Randle hasn't received the same hype as Wiggins and Parker because of his pedestrian 6-foot-11 wingspan. Or as SB Nation's Jonathan Tjarks put it:
Randle is built like a Tyrannosaurus Rex: all torso and no arms. He has a 6'11 wingspan, per Draft Express, which is enormous in most contexts, but not the super-sized world of the NBA paint. When matched up against the best power forwards in the world, he's going to have a significant length disadvantage, a problem that could impact his game on both sides of the ball.
Randle's tournament performance should help alleviate some of those concerns regarding his T-Rex-like build and if his strong play continues, beginning with tonight's Sweet 16 matchup against Louisville's Montrezl Harrell, he could get solidly in the top-five range.
Stock: Up
Late-Lottery Prospects:
Doug McDermott, SF, Creighton
Season averages: 26.7 PPG, 7.0 RPG, 1.6 APG, 0.2 SPG, 0.1 BPG, 52.6 FG%
NCAA Tournament: 22.5 PPG, 7.0 RPG, 1.5 APG, 0.0 SPG, 0.5 BPG, 54.1 FG% (two games)
McDermott dropped 30 points on 12-of-23 shooting against 14th-seeded Louisiana-Lafayette in the round of 64 and snared 12 rebounds (three offensive). It was the kind of well-rounded performance that suggested he'll be more than a slightly taller Kyle Korver in the NBA.
But in his next game, against Baylor, everything went to hell. The Bears sold out defensively to stop him at all costs, forcing his less-talented teammates to beat them, as evidenced by this screengrab from CBSSports.com's Matt Moore: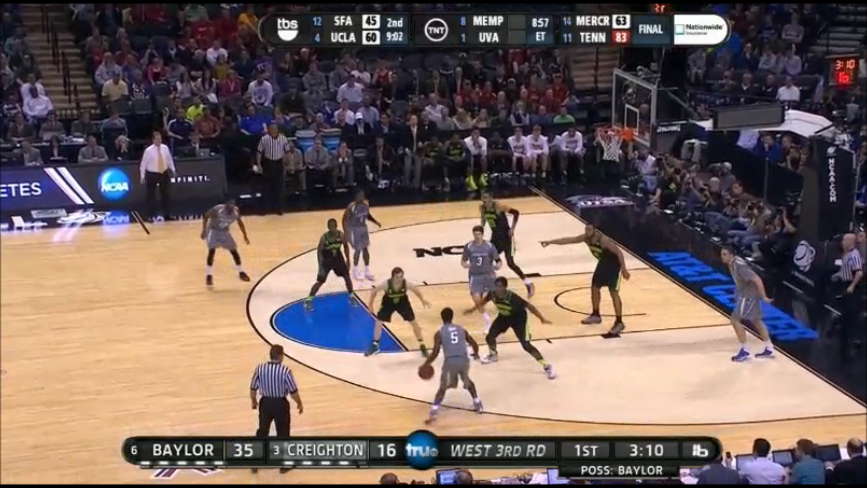 Any prospect—minus Kevin Durant—is going to struggle against these types of defensive looks. Still, as ESPN.com's Chad Ford suggests, the game "may have given us a glance at what he'd face from more athletic teams in the NBA."
Would McDermott, who finished his four-year career as the fifth-highest scorer in NCAA history, make sense on the Sixers? They do desperately need shooters, as evidenced by their league-worst 30.5 percent mark from 3-point range, but using a lottery pick on him could be a reach. McDermott may be better off on a team with other primary offensive options, as defenses couldn't devote a significant amount of attention on him. Wherever he lands, he'll be one of the more polarizing prospects on draft night.
Stock: Slightly down
Next Week:
Willie Cauley-Stein, C, Kentucky
Aaron Gordon, PF, Arizona
Gary Harris, SG, Michigan State
Nik Stauskas, SG, Michigan
1. For what it's worth, this study in the National Bureau of Economic Research (Casey Ichniowski, Anne E. Preston) suggests that performance in the tournament significantly impacts NBA teams' draft decisions, and "if anything, the unexpected performance in the March Madness tournament deserves more weight than it gets."
2. Ed. note: If the Sixers land the top pick, and it turns out Embiid is their guy, they'd have every incentive — for trading-down purposes — to play it off as if they want Wiggins. Something to think about…