Tanking has been seen as a necessary, albeit frustrating evil for the Sixers. Though many have had trouble coming to grips with it, the prevailing wisdom was that a 20-win season would be worth it in the end.
But in the wake of Monday night's blowout loss to the lowly Milwaukee Bucks — Philadelphia's 11th straight — many started questioning whether the Sixers are too bad for their own good. The Delaware County Times' Dennis Deitch, for instance, offered a fairly extensive collection of these thoughts on Twitter last night (in response to Aaron McKie's postgame anti-tank rant).
Preach, Aaron McKie. This right here is destructive. This is how young kids learn how to lose.

— Dennis Deitch (@DennisDeitch) February 25, 2014
SB Nation's Tom Ziller shared similar concerns in his Feb. 25 Hook, asking whether Sam Hinkie has made this team too awful. The Sixers, he argues, are in danger of becoming the next Cavaliers (footnote mine):
Remember: at least one of Philly's core players of the future, Carter-Williams1, is already experiencing the poison of intentional putrefaction. Young might be sticking around too. Can they handle it for another year or two?
Deitch and Ziller both present one of the go-to anti-tank arguments, one that makes sense on its surface; losing breeds bad habits and bad habits breed more losing. This, however, assumes that professional athletes turn unprofessional when things — regular season games — aren't going well. There is little in the form of hard, statistical evidence which backs up that assumption.
Because this is sports, the thinking goes, a different set of rules apply when analyzing employee behavior. NBA players, though, are like most other high-level professionals. The vast majority of them have worked as hard as any workforce member, and given that they've all collectively played thousands of games of basketball before hitting the pros, they learned a long time ago how to succeed, and how to win basketball games: you score more points than the other team.
Can athletes develop bad habits when shit hits the fan? Absolutely. Players stuck in losing cultures can develop bad habits, and regular season losses are an indicator of a losing culture. Let's not, however, equate causation with correlation. Winning cultures — like the 2006-07 pre-championship Boston Celtics, the 1996-97 pre-Tim Duncan Spurs, and maybe the 2013-14 Sixers — can field losing teams, too.
Getting defensive
Let's assume that culture-building and domino effects are real.2 The place to start is on the defensive end. Perhaps the biggest difference between the teams led by Doug Collins and Brett Brown's current outfit is their incompetence on that end, which Deitch suggests is symptomatic of teams who have tanked and failed.
No worries, a young team with high draft picks & defensive ambivalence has worked wonders in Sacramento.

— Dennis Deitch (@DennisDeitch) February 25, 2014
The Kings are the usual target of scorn in this realm, and that makes sense; they're terrible right now, and in spite of landing prospect after prospect, they've remained terrible for the better part of the last decade.
But is that because regular season losses have inhibited the growth of their defense? Not necessarily. I'd argue the institutional instability leads to the losses, which leads to the poor defense. They've had six coaches in eight seasons.  (Note that the primary target of the SAC-attack is usually DeMarcus Cousins. By no means is he a defensive stopper, but he has led the team in defensive win shares by a large margin every season he has been in the league.)
What about the perennially mediocre Washington Wizards? Did their losing culture stunt their defense?
During John Wall's rookie season, the Wizards team defensive rating of 110.2 was worse than the Sixers' rating of 109.6 this season. They've since seen their points allowed drop by over five points and their defensive rating (which accounts for pace) is eighth best in the NBA. In other shocking news, the Wizards added more talent through the draft (Bradley Beal) and via trade (Marcin Gortat, Trevor Ariza) that have helped in this regard. Novel concept!
But perhaps the best example of all is in New Orleans, where Jrue Holiday3 was shipped in order to push the team to the playoffs. Having been part of competitive, defensive-minded teams under Collins, Holiday figured to be part of a revival spearheaded by the league's leading shot blocker, Anthony Davis.
You'll be shocked yet again: the Pelicans have given up four more points per game this season, and they've generally been a disorganized mess on that end, despite having a potentially transcendent anchor in Davis. Injuries have taken their toll in the Crescent City,  but even at full strength, the Pelicans assumed crunch-time lineup (No. 5 here) has been outrageously bad on defense.
This isn't to say that culture building and domino effects are non-existent. But they're certainly not the be all end all.
Winning cultures
Finally, let's address the team-building philosophy Deitch suggests as the alternative to the Sixers tankfest.
Look, I don't care. You want to play a dice game in the NBA, good luck. I'd rather do it how the Spurs & Pacers do it. That's just me.

— Dennis Deitch (@DennisDeitch) February 25, 2014
The Sixers would love to be the Spurs, the most consistently excellent franchise over the past 15 years by a wide margin. They've nailed their draft picks at the back of the first round, revitalized careers of players who otherwise may be out of the league, and built a "culture" that promotes team above self. That conveniently leaves out the part where the Spurs finished the 1996-97 season with a 20-62 record after David Robinson was lost to injury, leading to their drafting of Tim Duncan No. 1 overall4.
Have a look at the Spurs starting lineup in the final game of that season. Their leading scorer on the night, Carl Herrera, holds a career average of 5.3 points per game. Finishing second was a 37-year-old Dominique Wilkins, who was so washed up at that point that he had spent the previous year playing in Greece. Instead of wasting their time on has-beens and never weres, the Sixers have given the reigns to young players who can work out their mistakes on the fly, hopefully unearthing some jewels along the way.
As for the Pacers, their route to success isn't typical. Built mostly on picks in the latter stages of drafts, Indiana overcame less than ideal picks by way of excellent evaluation and development. Since we all love Sam Hinkie, he could do the same given the chance, correct?
Perhaps. But that's ignoring Philadelphia's situation. What matters here are simple odds: what is the most likely way to turn this particular roster into a championship team? As luck would have it, Aaron Barzilai, now the Sixers director of analytics, has produced studies on player production relative to draft position.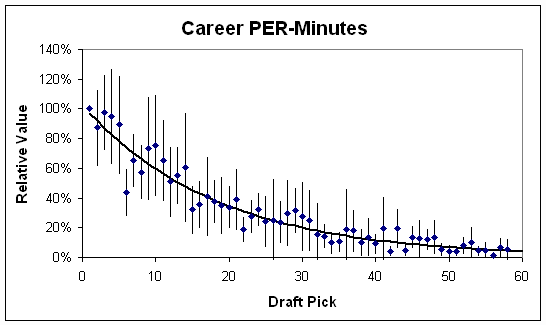 The most damning figure of all suggests that players who go No. 1 (which in all likelihood goes to a team that is inherently "worse" than those further back in the draft) win the most games throughout their career. Barzilai illustrates that the difference between the value of the first pick and the 10th pick (where Indy's Paul George was selected) is in the ballpark of 60%. The difference between pick No. 5 and pick No. 1, could be the difference between second-round exits and NBA championships.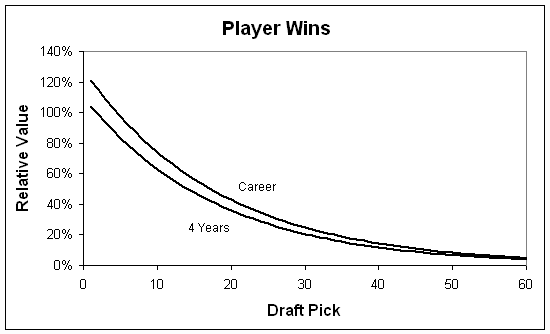 Hinkie is managing his team much like a blackjack player assesses the cards, focusing not on the end result but the thought process that goes into it. You don't draw a 10 or a face card every time you double down on 11, but you still make that gamble based on the odds. Similarly, you don't get LeBron James or Kevin Durant every time you select No. 1 or No. 2, but picking there is the most likely way to get a franchise player.
The hesitation and frustration with this Sixers team is understandable. It's difficult to watch a team when they aren't competitive most nights, with the knowledge that most of these players have no place in the franchise's long-term plans.
There is, however, little evidence suggesting that meaningless regular season losses inhibit long-term player growth. To suggest that Hinkie's plan is stunting the development of the young players says more about the low (and condescending) expectations we put on athletes, than the athletes themselves. The notion is ignorant to decades of hard data and the context of the Sixers' situation.
1. Michael Carter-Williams learned as much about winning on his Final Four-bound Syracuse team last season, as he is about losing on this year's lottery-bound Sixers team.
2. Playing for a perpetual loser, I'd argue, would inhibit player development.  This is different from playing for an organization with a long-term vision that intentionally throws away one season.
3. The "winning breeds winning habits" theory would imply that playoff experience, however brief, is necessary for players to learn how to win. When the Sixers were able to advance to the second round of the 2012 playoffs, many were excited about young guns like Evan Turner and Jrue Holiday getting reps on a big stage. Flash forward almost two years, and neither Holiday nor Turner have seen that experience result in anything but more losing.
4. The extent to which the Spurs "tanked" is debatable, though they certainly didn't go all out in trying to win regular season games.